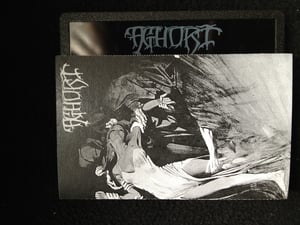 $

3.00 - On Sale
Pro manufacured cassettes, 300 made. Repress of home dubbed original version, 30 copies made in 2002.
Raw and ugly recording.
Doom/sludge from Portland, 2001-2003.Includes 1 track not on original demo. 46 minutes in length. Members of ALDEBARAN, FALL OF THE BASTARDS, RITUAL NECROMANCY, WE SHOULD DIE, SUPERBAD.description from DOOM METAL.COM in '02
"This live-recorded demo is an oppressive slab of sludgy, misanthropic doom with blackened screams. Imagine a jamming session of the rhythm section of Burning Witch with Landfermann, the ex-vocalist of Bethlehem ('Dictius te necare') screaming in the background and perhaps you'll get the picture."